This is an incredible bad disease. I have been working with a family who has an infant with this disease. Note the frequency (6000 cases per year). Most kids with SMA1 do not survive past 2 years.
Parents hope 2-year-old child gets into experimental trial

Morgan Saville, 2, spends two hours per day in an apparatus that helps her muscles stave off the effects of spinal muscular atrophy. BILL TIERNAN/THE VIRGINIAN-PILOT

By ELIZABETH SIMPSON, The Virginian-Pilot
© August 13, 2005

The milestones in the life of 2-year-old Elizabeth Morgan Saville differ from most girls her age:

There's the purchase of her first wheelchair. The trip in the ambulance after she stopped breathing and turned blue on an Outer Banks trip. The night of a fund raiser last fall that gathered thousands of dollars to help find a treatment that could help the Virginia Beach girl live longer.

Morgan has blond hair, blue eyes, a winsome smile and a genetic disorder called spinal muscular atrophy. The condition causes nerve cells in her spinal cord and brain stem to degenerate. That, in turn, leads to muscle weakness.

For her first eight months, she looked perfectly normal. Then she started showing signs of the disease. She had a hard time sitting up. Her limbs turned floppy. When other children her age were crawling and toddling, she wasn't. Just lifting a sippy cup was a chore.

To understand why the disease steals lives early, imagine all the things muscles are used for: Coughing. Swallowing. Breathing.

Morgan will turn 3 in October, and her parents, Stacy and Bill Saville, hope her next milestone will be enrollment in clinical trials of medications that could stave off further erosion of her muscles. The trials – called Project Cure SMA – test two medications, valproic acid and carnitine, on children 2 to 17 years old with SMA.

It's not a cure, but researchers hope it can stabilize and even strengthen some children, to buy them time until more effective treatments – say, stem cell or gene therapy solutions – are discovered.

One in 6,000 children is born with SMA, the leading genetic killer of babies and toddlers. There are different types of the disease, the worst of which can cause children to die within a few years. Morgan has a less severe Type II of the disease. These children sometimes live into adulthood, but some die sooner when weak chest and respiratory muscles lose the battle of fighting infections.

As soon as Stacy found out her daughter had the disorder, she recast her life. She abandoned plans to return to her accounting profession and instead threw herself into advocacy groups to help find cures for the disease. She founded a local Fight SMA chapter called "Morgan's Buddies" to raise money for research. She got involved with SMA Support Inc., which helps families across the country with education, support, equipment and medical costs.

On Aug. 19 to 21, about 30 families of SMA children will convene for a national "Family Gathering" in Virginia Beach that Stacy helped organize. Because a small number of children in any given area have SMA, families rely on a national network of families for support and education.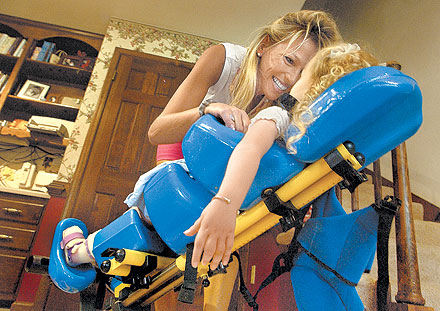 Stacey in this device 2 hours a day.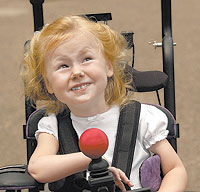 Stacey today.