Mickey Mouse and other animals have always been drawn with three fingers and a thumb. How did this come to be?
There are lots of books about this subject. Some writers speculate that it is easier to draw a thumb and three fingers. It wasn't until I saw Ratatouille recently that it was clear... the rat in Ratatouille has three fingers and a thumb but the human has four fingers and a thumb.
http://disney.go.com/disneypictures/...ille/main.html
Animals have only four fingers on their paws with the thumb a useless vestigial appendage higher up on limb. A look at the pawprint of dogs show this clearly. The thing in the back of the fingers is the "palm", not the thumb.
Cats have four "fingers". So, the original cartoon artists are correct in drawing four fingers. They just took a little artistic license converting one of the fingers to a thumb-like appendage.
http://www.mooseyscountrygarden.com/...aw-feather.jpg
Now the panda is the only animal besides human and monkeys that have fingers and an opposing thumb pad.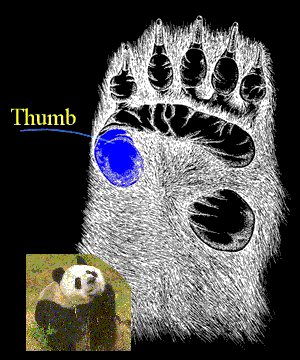 Wise.