http://www.gnxp.com/blog/2007/04/int...telligence.php
This article is entitled intelligence and intercourse... So, were you a virgin when you graduated from high school?
Tyler Cowen quotes from a new study testing the relationship between grades and delayed sexual activity.
Last December I passed a paper along to Razib showing that high-school age adolescents with higher IQs and extremely low IQs were less likely to have had first intercourse than those with average to below average intelligence. (i.e. for males with IQs under 70, 63.3% were still virgins, for those with IQs between 70-90 only 50.2% were virgin, 58.6% were virgins with IQs between 90-110, and 70.3% with IQs over 110 were virgins)
In fact, a more detailed study from 2000 is devoted strictly to this topic, and finds the same thing: Smart Teens Don't Have Sex (or Kiss Much Either).
The team looked at 1000s of representative teens grades 7-12 in the National Longitudinal Study of Adolescent Health and The Biosocial Factors in Adolescent Development datasets, both of which include an IQ test, and include detailed sexual experience questions ranging from hand-holding to intercourse. As with the other study there was a curvilinear relationship: students with IQs above 100 and below 70 were significantly less likely to have had intercourse than those in between. Also like the other study, they found teens with IQs ranging from 75 to 90 had the lowest probability of virginity (the authors note this is also the same IQ range where propensity towards crime peaks).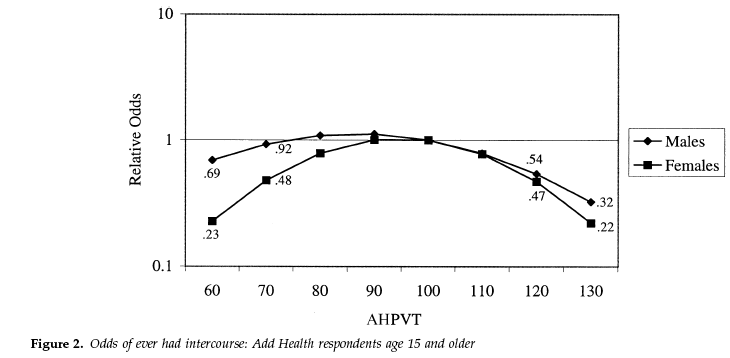 Depending on the specific age and gender, an adolescent with an IQ of 100 was 1.5 to 5 times more likely to have had intercourse than a teen with a score of 120 or 130. Each additional point of IQ increased the odds of virginity by 2.7% for males and 1.7% for females. But higher IQ had a similar relationship across the entire range of romantic/sexual interactions, decreasing the odds that teens had ever kissed or even held hands with a member of the opposite sex at each age.
While these authors leave off at grade 12th, it would seem plausible to expect that this relationship extends beyond high school. To explore this, plenty of interesting facts come from a 2001 campus sex survey by the joint MIT/Wellesley college magazine Counterpoint (PDF). Looking within and between colleges, IQ appears to delay sexual activity on into young adulthood.