My wife and I and our oldest boy (18) stayed in Pueblo Bonito Emerald Bay
http://www.tripadvisor.ca/Hotel_Revi...fic_Coast.html
We have been to a couple places in Mexico that were accessible but I think we enjoyed this one the best. We booked our trip on a last minute (2 weeks before) trip with Sunwing. We paid up front then after a long week of bugging them (to give us confirmation on an accessible room) they finally sent us a email confirming. Sunwing always supplies the transportation to and from the Airport but unfortunately they don't for people in wheelchairs and they didn't even give me some sort of discount on the one we had to book. Good news is they do have a nice large wheelchair van in Mazatlan but the sad part is it cost me $220 Canadian for the 30min drive to and from the resort to airport. Another positive is we were 45min late landing and the vehicle was still there waiting for us trust me we have sat around waiting for 4 hours in some places waiting for promised vehicle to show up. That was in Miami where there is strict laws one accessibility!!
The Place was fantastic the gardens/grounds were very nice, beach looked very nice (not a beach person) the food was really good and the booze choices were endless with most brands.
When we first got there and they assigned us a room they took us to a room with no roll in shower or even bars by the toilet (happens every time) so of course i had to explain to the bell man what I needed. He could understand and spoke english very well and was able to understand my needs unlike the lady at the front desk. She just had a blank look everytime i mentioned a roll in shower it was obvious she didn't know what i was saying, which is fair as I am in a spanish country!
So the bellman took us to their penthouse suite which had a seperate bedroom, two bathrooms, massive living room/ kitchenette and large deck with an amazing view from the middle of the resort. We got a free upgrade that was a great way to start the vacation, obviously I tipped that bell man very well and told him when he goes home that night to grab a nice bottle of wine and share it with his wife/girlfriend. He sure smiled and was always happy and wanting to help me in any way every time I passed him the whole week we were there.
Here is a picture of their bathroom. The bench in this picture I brought myself. It is made of aluminum and very light it also breaks down enough to fit into one of our suitcases. Not worth paying a fortune with those easy carry travel ones that are sold online (they are usually 7 to 12 times the price, a ripoff). I usually have two suitcases for myself when we travel. One we put my shower bench, sliding board, Sheepskins, toilet seat (brackets screw off to pack) and all the paraphernalia that I would need over the 7 days for bathroom ect. Also Note: some airlines try to charge me for the second bag until I tell them that all airlines don't charge me as it is full of all the kit I need to get by day to day. I have not had anyone ask to see inside but the offer is there from me, either way it works as we travel quite a bit and i have never had to pay anything yet even when it is over weight.
Toilet seat I always bring with me so far has fit on everything.
]
Here is some pictures of the nice room we stayed in.
View from our patio: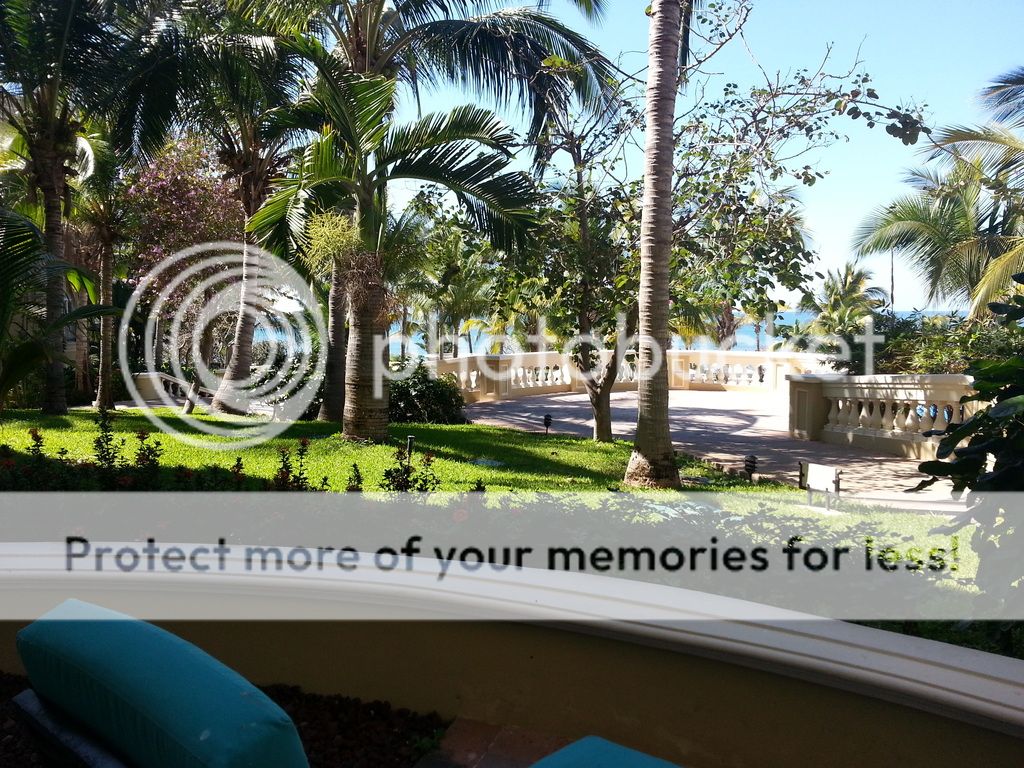 We have been to Mexico quite a bit and I have to say this is the best all inclusive we have been too. (just avoid the timeshare stuff they offer you when you are there not worth the hassle we were warned before we went). They did things differently and it seemed to work very well as the staff was always wanting to help you and so happy to be working there you can genuinely see it. This company even offers their employees free upgrading education and chances to work their way up. What they did that was very different was they would bill you every time you leave after eating and or drinking even though it was an all inclusive. This way you can add a tip in for your server if you wanted, prices were listed on bill but total always came to zero. It is also good to see what it would of cost you if you were not on the all inclusive plan (I would say half to two thirds of the people were not, I am guessing they were timeshare owners). The food was very fresh as it wasn't your typical all inclusive where everyone there is on the all inclusive plan. I think that was a big part of the food being so fresh. Most nights they had theme nights that would have food from that country or celebration along with singing and dancing. So there was a Caribbean night, Asian night, Mexican Night, steak and shrimp night and a couple others i cant remember. You can see many other pictures from the link to the tripadvisor site. Also if the food wasn't out it doesn't mean they don't have it. Big example of this was bacon! If you family is anything like mine you count bacon as it's own food group! First breakfast we asked for some they brought us out a huge plate of nice crispy bacon mmmmmmmmmmmm. After that we never had to ask again every morning we would come to eat someone would recognize us right away and bring some out.
They also have a sister resort next door you can catch a free shuttle too if you wanted to try some of their food and services there. We never went but we were told the other hotel had a lot more things for active people like better beach for swimming, kayaks, snorkels, masks and more games in pool ect. We enjoyed the peace and quiet at this resort. Supposedly the sister hotel was completely all inclusive but we don't know for sure, so I cant really say much about it.
The whole site was accessible they had ramps everywhere and elevators if needed. It was a big workout to get to top coming from pool but anyone from the staff to the vacationers themselves usually don't mind pushing you up! Also the spa they have is amazing if you book with them the first 24hrs you are there (anytime you want to go during your stay) they give you 20% off and there prices are very good. They have a hour long Hydropath / therapy free for the hour leading up to your massage as part of the price. I had a massage as well but of course the hydropath was not accessible. I think the price came to roughly $72 American for a 90 min massage and the hydro path and it was well worth it as it was a VERY upscale spa.
So over all i would give them a 10/10 which I have never given before. The only part of the trip I wasn't super happy about was the over the top expensive accessible ride to and from the airport, Sunwing should have offered to cover the trip or at least give you some savings on it.
Also they have a older gentleman named Arturo that walks around the resort every day asking if anyone wants to go on excursions, he was able to set up ziplining/ ATV'ing and tour of Tequila plant for my wife and son for one day. I also booked a fishing trip for the three of us which worked out well he even made sure they could get me there and back safely. They had a covered truck in which they were able to lift me up and take me down in my chair, there was also benches in back that others could sit on. He was actually up early in the morning when we were picked up at the hotel to help out. The prices were better through him/hotel than using Sunwing besides Sunwing would've left me to book the transportation myself and I would of ended up paying another fortune. The excursion would of been a lot cheaper than my transportation!
So for anyone that really worries about going to new places that they are not familiar with or have no guarantee on accessibility they can sleep easy knowing this place works.
Cheers,
Mooner