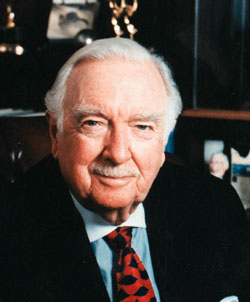 "Uncle Walter" is gone.
So sad that we are coming up to the 40 year anniversary of the first man on the moon, and one of the people most excited by that event is now gone. I will always remember him for the following:
Holding back tears when announcing JFK's death to a shocked nation on TV (I was in 6th grade).
His gleeful, almost lost for words, excitement when he was narrating the moon landing.
His courage to have a clear opposition to the war in Viet Nam after reporting there live and on our TVs about the war for so long.
He was a sailor and a kind man from everything I heard about him. He was 92 and lived a good life. He will be missed.
(KLD)