http://www.naturalnews.com:80/025757.html
NaturalNews) It sounds like something from a bad sci-fi movie. People report the sensation of creatures crawling under their skin, mysterious moving fibers appear, and finally bugs and worms pop out. Unfortunately, these terrifying symptoms are all too true. The people having them are experiencing Morgellons, the latest and scariest in the series of bizarre diseases appearing in the last few years, seemingly from nowhere. Morgellons is now reaching epidemic proportions in the U.S. and abroad.
bottom of page---------------------------------
http://www.timesocket.com/disease/morgellons-disease-pictures-and-story/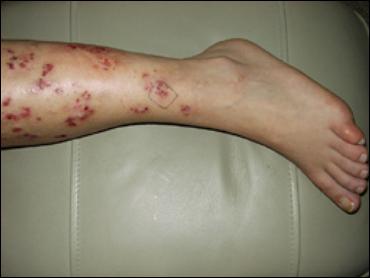 Morgellons is a multi-dimensional

disease
Morgellons starts with relentless itching, stinging or biting sensations. Cotton-like balls may appear on the body with no reasonable explanation. Soon skin rash develops along with lesions that will not heal. Many sufferers report string-like fibers of varying color popping up.
Pictures
http://www.rense.com/Datapages/morgphotos.htm
bottom of page
View under cheek, callus removed 10-12-2006 by JS. Matured to 10-24-06)
Note 'snake-like creature' with feeler tube for navigation, adhesion, breathing or feeding.
Note another at 12 o'clock with feeler tube that is like a cat's claw.
At 9 o'clock a 'dragon-like creature' with teeth and horned beak.
At
4 o'clock, note 'sleeping snake creature'
More on link above & here
http://www.rense.com/general74/morg6-5.htm