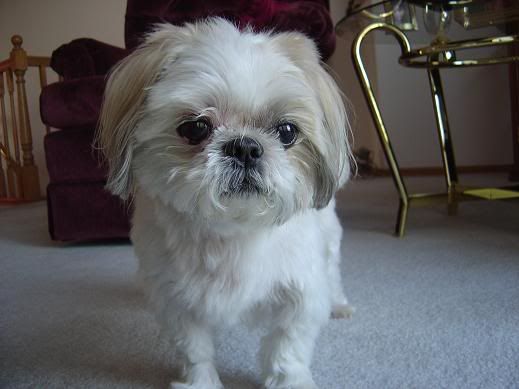 I woke up today to find that Kibbles had lost the sight in her one good eye. She had surgery a few months ago on her left eye and it remained closed. I saw the same thing in her right eye today. She was totally blind. We have been talking about putting her down a couple of weeks when she lwas weak, but we raised her predisone and she bounced back and was like a puppy again.
Wednesday I came home and it looked like she had a stroke and saw that her eye was cloudy, but she could still see and again we started talking about putting her down. We knew her time was limited and we didn't want her to suffer. I had lunchies with her today and when she could just sniff to find the food I called dad in tears and told him it was time for her to go. After work he brought her home a hamburger from McDonalds and we fed that to her and then each took time holding her. My mom went into work today for the fact that she couldn't deal with it. Dad called her and let her know we were taking her in.
At 4:30 we took her to the vet. I have never lost anyone close to me or have ever been to a funeral so this was THE hardest thing I have ever had to do. Dad was going to do it by himself, but she was our dog and I wanted to be with her. She was the only one there when I was paralyzed and I was going to be with her at the end. What majorly sucked was while waiting a shitzu came out of the exam room and was the spitting image of Kibbles in her prime. That was something that we didn't need to see.
Kibbles went peacefully. It was her time and we owed it to her to do this. I rubbed her ears while they gave her a shot to make her go to sleep and dad petted her side. We did the same as they gave her the med to make her heart stop. She gave us 15 great years. By far the funniest dog I have ever come across. There will never be another one like her. Dad hung her collar on a big picture we have of her in my exercise room. That will be hard to look at. She is in a better place now, but I will really miss her. It's going to be tough for a while.
Hug your pets and hold em close!
ETA: A sweet picture of her.