First of all, after two rounds of IVF over the years God blessed us with the opportunity to adopt a baby girl last November. We have had her since the day she was born. As those of you with kids know, it is difficult to adapt to taking care of a baby from a wheelchair. I have a T6 complete SCI, so no trunk control. We weren't able to find a changing table that I could pull underneath, so thankfully I have a lot of building/fabrication experience and was able to build my own: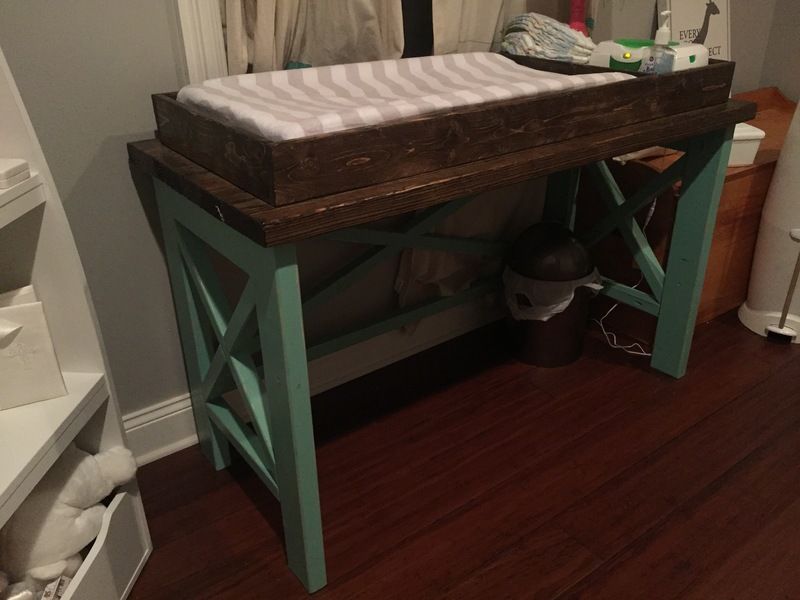 Next was the crib. I had done a lot of research on how other people have handled this, as I can't reach down into the crib to pick her up. So I had a friend with a table saw cut the front section in half for me. I then put hinges on one side so that I could swing open the front like a door. I also found a latch that works by pulling the pin across to lock it by using a magnet on one side. This allowed me the ability to open and close it with one hand. It also has a key so that it cannot be opened accidentally:
Last was the diaper genie. Those that have one of these know they are opened by a foot pedal. So I screwed an eye bolt into it and ran a wooden dowel down to the pedal that I drilled a hole into for the rod to connect. I also left a enough of the dowel sticking up above the can so that I can push it down with the hand I'm holding the diaper with and have enough room to throw it away, since I'm holding on to the baby with the other hand to keep her secure. I don't use a nut on the bottom because I have to remove the dowel to empty the can:
Those are a few things I have done that helped a lot. Hopefully it may give others some ideas, so I wanted to share.