Our twins were born 11/9/2015 at 5:01 and 5:04AM, 4lbs 11oz and 4lbs 3oz at 34 weeks and 6 days. They had a short 1 week stay in the NICU and Evelyn and Elliot are now 11 weeks old.
I also wanted to share some information about the equipment I use since I'm a T7/T8 compete para. I built a small table and use a changing pad on it so that I can easily roll under and be able to change diapers. I'll try to get a picture for this soon.
I've tested out a bunch of double strollers and the best one for me was the Uppababy Vista with the Mesa car seats It can accommodate two car seats and eventually two toddler seats. This was the easiest to push and break down to put in our car. This stroller and car seat combo was also the easiest to release and lift the car seat out of the stroller base because there is only one button to depress. When the car seat is attached to the car seat base in the car, It also has one latch to remove from the base. http://uppababy.com/vista/overview/
I tried to use my wife's ErgoBaby carrier, but it was too bulky and too difficult to put on so I looked for another solution. I found the Infantino Breathe baby carrier and it is very simple to put on. I figured since I'm in a wheelchair, I don't need the extra support able bodied parents need. I put it on like a backpack, but backwards, slide the baby in and have two plastic clips to secure the baby in. I have the back straps adjusted so it is loose enough for my baby to be "seated" on my lap. Very comfortable and easy to use.
http://www.infantino.com/collections...cts/all-season
For the most part that's all I really use. I use a normal crib and have learned out to pick up my children with one hand and have yet to drop them. What I do is lay them on their side facing my right hand, my thumb on their chest, and my hand spread over their back and neck, then lift. I do this to get them out of the crib and their rock-and-plays. I have big hands so this is easy for me, I'll try to get a video for this so you guys have a better idea of what I'm doing.

We also used a Arm's Reach cosleeper that worked great until the twins got too big and we moved them into the crib. It can convert from a bassinet to a cosleeper with one side lower so that its easy to access from a wheelchair or bed in both configurations. We had it at the foot of our bed for the first 4 weeks and I can scoot forward and take care of a crying baby. it can easily break down into it's on carrying case for trips or grandma's house, but for the twins, they outgrew it and we didn't want to carry two of these around, we do have two that a friend with twins gave me. https://www.armsreach.com/
We are planning on buying a Joovy Room2 playard pack and play for when we travel or drop them off at grandma's house. It's a square pack and play with extra room, I saw someone on youtube with twins and this was very convenient for them. Since you are having a singleton, a normal pack and play will be sufficient for your needs. http://www.joovy.com/room-playard/
When wheeling inside the house, I cross one leg over and place my baby across my lap. My leg becomes a barrier so they don't roll off. I don't use any boppies when I feed them. I just lay them across my lap and support the neck/head with one hand and feed with my other hand.
We also bought a new van recently in preparation for the twins. We bought a 2015 Odyssey Touring Elite van because I knew we would take a lot of road trips with the twins. With the third row seats folded into the floor, the car seat bases in the second row behind the passenger seat and in the middle seat, my wife can sit behind me and keep an eye on the twins. My wife throws my wheelchair in the cargo area with the double stroller and any additional equipment we need. I also play wheelchair basketball and I can easily fit my basketball chair, everyday wheelchair, double stroller and some additional luggage as needed. TONS of space. When I'm driving alone without my wife and twins, I can transfer into the van, take the wheels off and place them on the front passenger seat, then put the chair/frame into the second row passenger seat on top of the car seat bases. Or if the babies are with me and my wife isn't, I can put the babies in the car seats, then transfer my wheelchair into the front passenger seat (I haven't been by myself with the twins and having to drive them somewhere just yet).


Being a twin parent is exhausting, I'm still learning how to adapt to it as a para, but I feel I have things under control...UNTIL THEY CRAWL! That will be another challenge, lol. Here are some pictures, I'll try to update this thread with pictures of the changing table, the stroller, and my baby carrier. Hopefully this thread will be helpful for other new parents with a singleton or twins.
If you have questions on how I manage certain things, feel free to ask.
Our holiday picture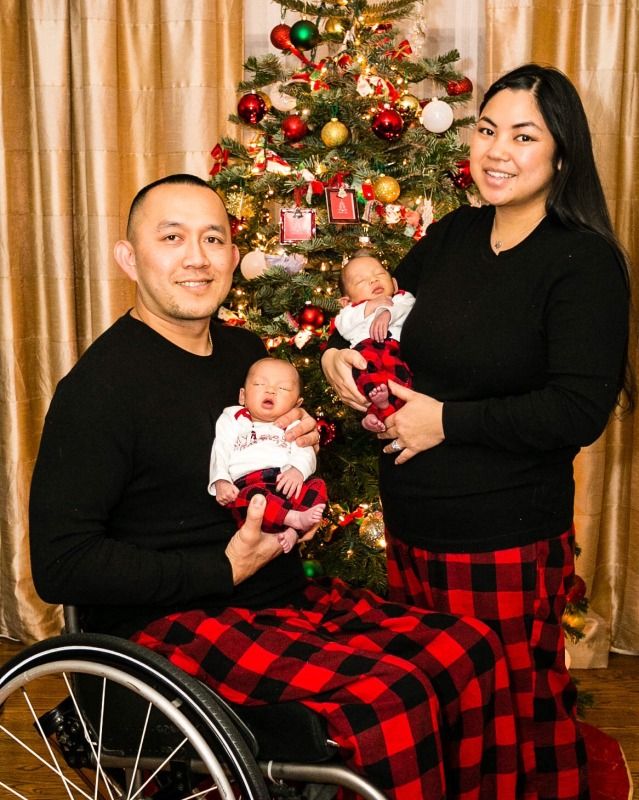 .
and what they look like today (Elliot left, Evelyn right)