Here's the specs: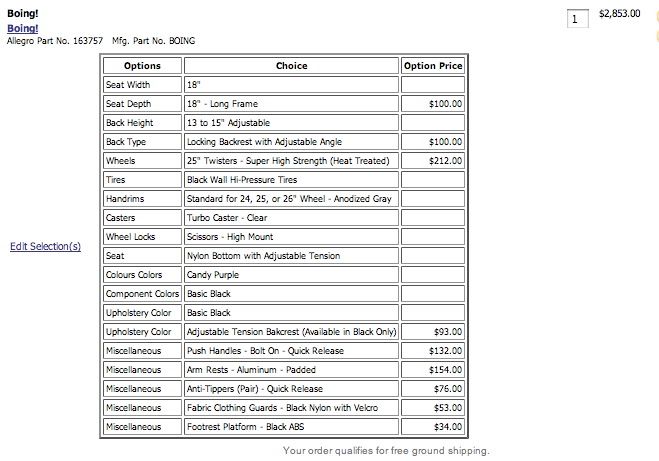 I sit on a 2" ROHO Lo-pro cushion.
I ended up taking the 3" castors off and putting 4" scooter wheels on it. I ordered the wheels online for about $8, incl shipping I do believe. The bigger wheels are easier to maneuver with, help raise the front of my chair some. I ordered the wheels without bearings (not on purpose), but my ABEC-5 bearings out of my other wheels fit perfect.
My tires are fine for town/school/etc...but for camping, astronomy observing, and winter--not so much. When we are out observing at night, once dew falls I am stuck and my wheels just spin where I sit. By winter, I will have a pair of 24" aggressive knobbies. The thicker tires offset the smaller rims so I don't need to adjust my chair angles at all. Since my wheels are quick release, they will work perfect for weekend obnoxiousness and winter in Montana. Next summer, I will be set for the state starparty.
Rollin, notice the thickness of the chair back.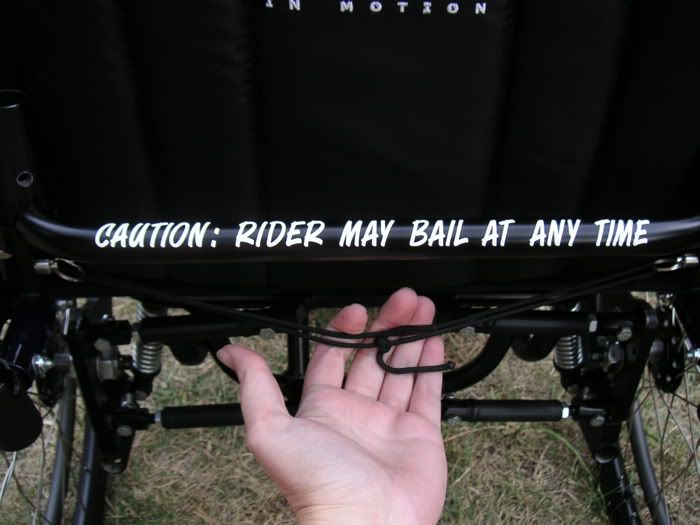 Quick release string.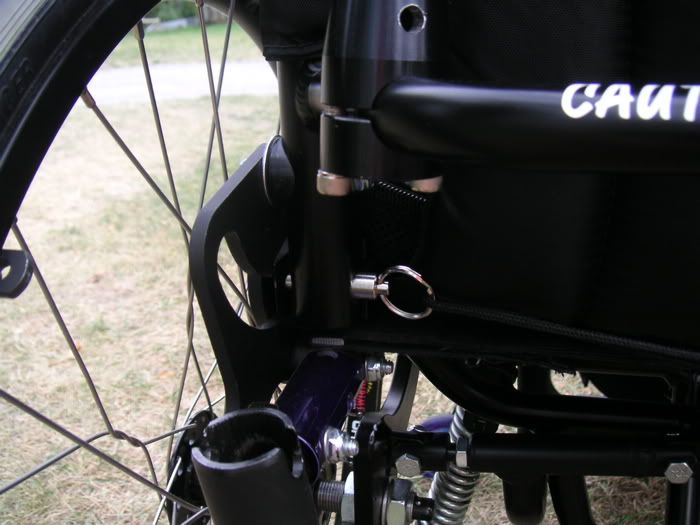 Quick release pin. The vertical tube towards the front of the pic is for my quick release armrest.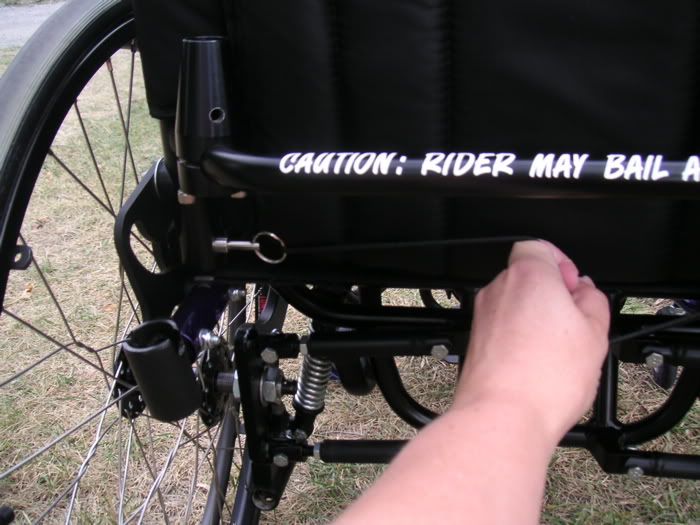 Twisting the quick release string to release the back. Note the bar with the decal on it - to the left of "caution." That's where the quick release push handle goes. Held in place with a pin. (If you want a pic of those, I can get you one.
Sorry, I forgot) I rarely use the push handles. If I am going to be out all day - such as the fair, I use them. If I am out and about and get stuck and need quick help, then whomever is with me just grabs that "caution" bar and uses it to pull me.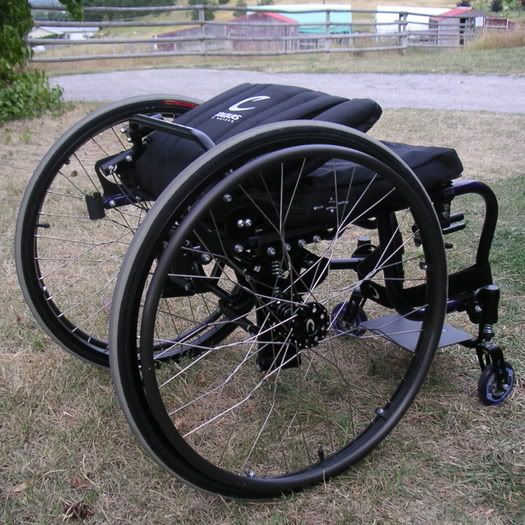 The seat down. It will lay completely flat if I take my ROHO off.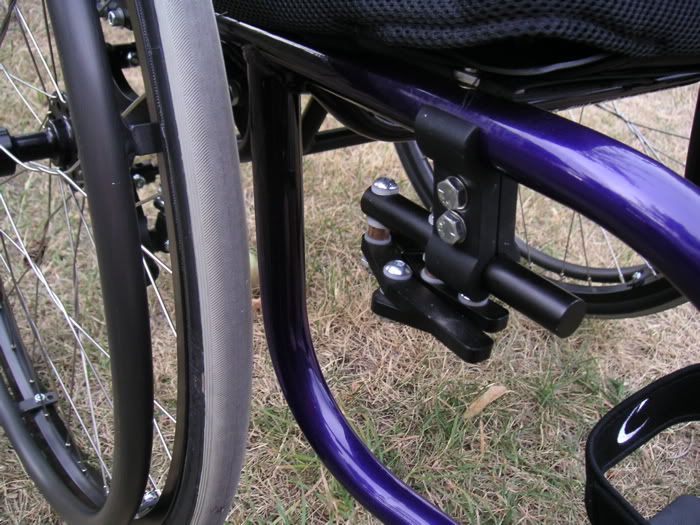 Scissor Brakes. Love them... they stay out of the way and I don't whack my fingers on them when rollin.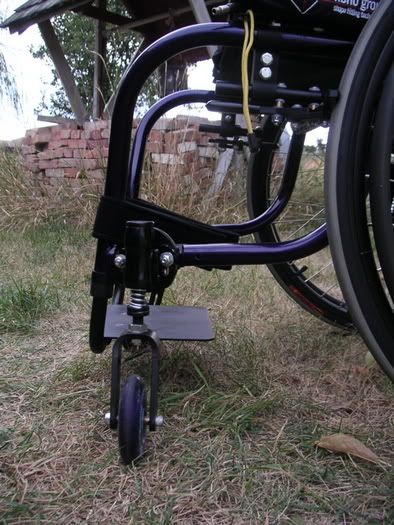 Side shot. I was trying to show you my footplate clearance. It's up as high as it will go. I wish I would have asked for another inch. Now, I can't lower the plate hardly at all for my clinical shoes without bottoming out on uneven ground. (if you live in the city not a big deal, but I live on a llama farm.)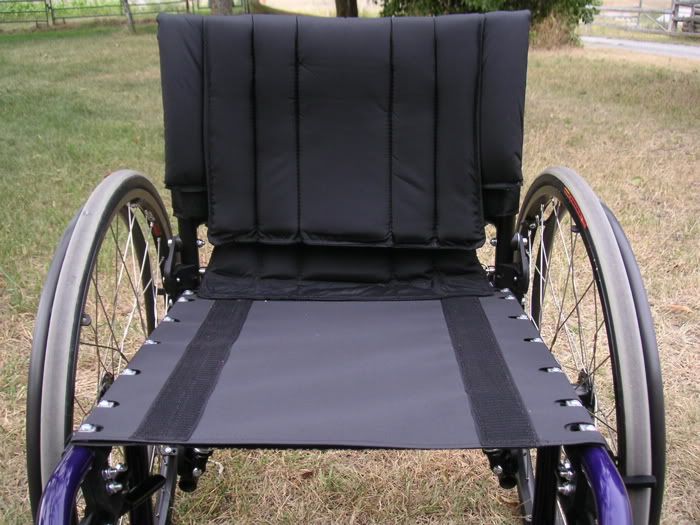 Seat without the cushion on. Note the back velcros to the seat bottom so no one sees your butt crack if your pants fall down.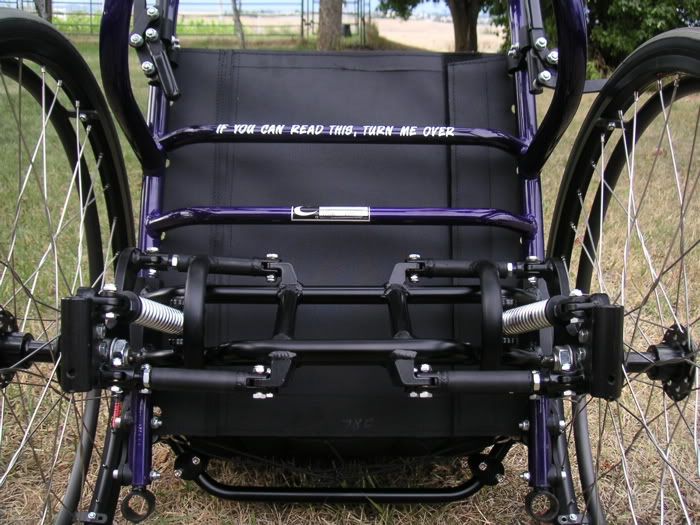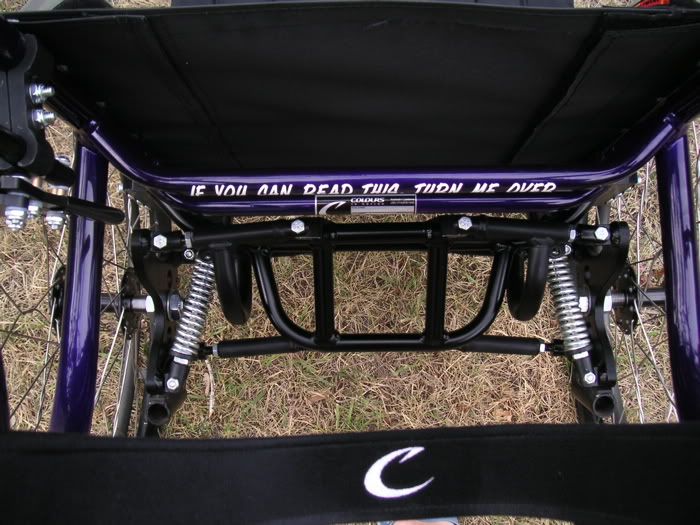 Four Wheel Independent Suspension system. Before this chair I used to count down the hours until I could take more pain meds. In lab tests this chair absorbs 80% of vibrations. What that translates to for me is less pain. Some days, I am manageable and forget to take my pain meds. For someone who feels like they are on fire constantly, that's quite an accomplishment. My kidneys and liver thank me.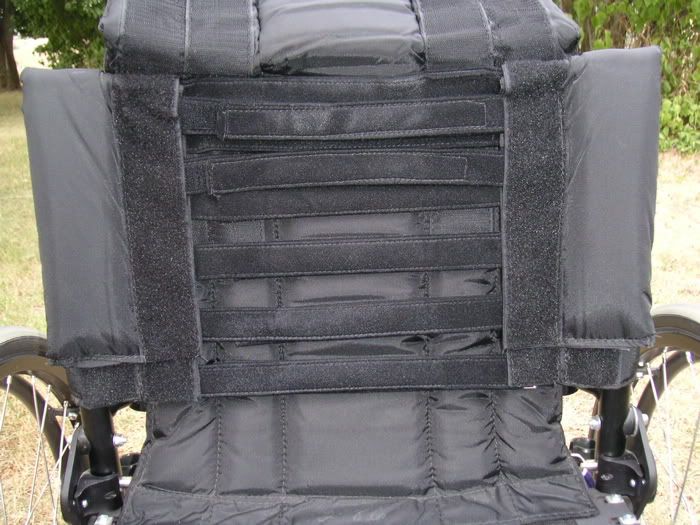 Peeling up the top to show the adjustable tension back.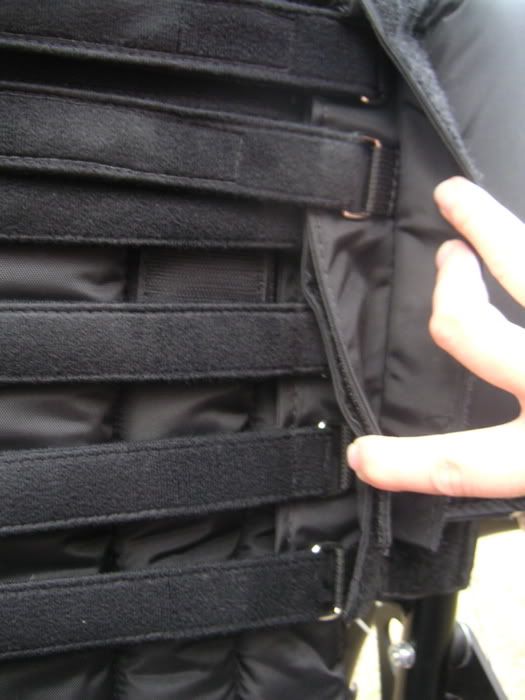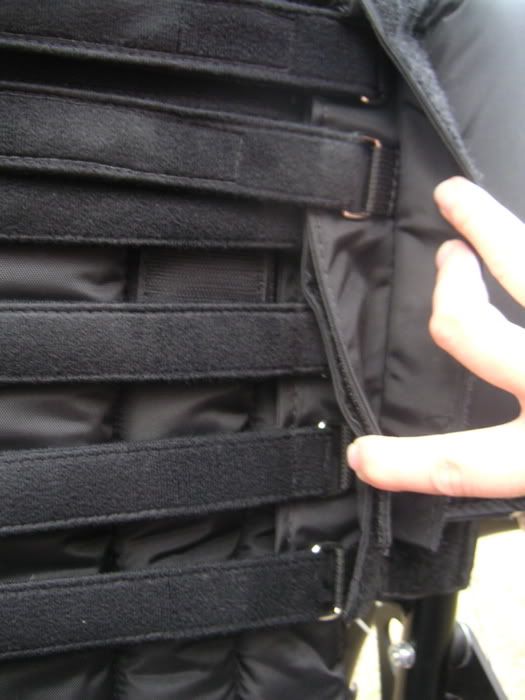 There are 6 straps on the back, and two extras on the top. I have the 6 front ones on mine adjusted "soft" and the two top back ones tight. I tend to use the back of my chair for an armrest, so I like it to be a little tighter. I don't use my armrests at all. I figure if I get used to them, I will count on them as a crutch. Besides, I try to keep what is on my chair to a minimum.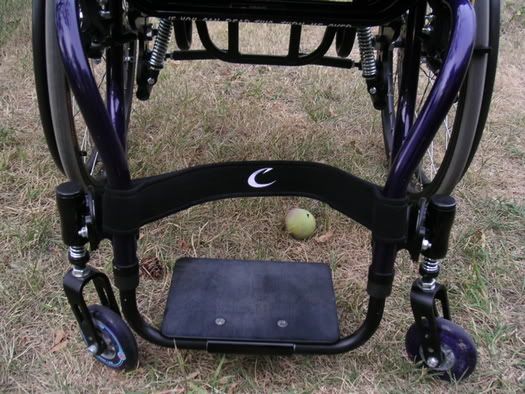 My footplate and purple 4" scooter wheels. The castors are quick release too. It doesn't matter for me, but it might help when transporting the chair in small places. This is the footplate upgrade. The standard footplate is two tubes that show on the colours website.
I hope that helps ya!! If you want more pics, let me know.