This new chair and the questions that arise as I proceed.
Does anyone have a CAD they would share that closely resembles these (current) specs for my planned ZRA?
This perspective drawing of a TRA is what I have been making use of so far.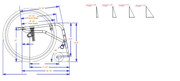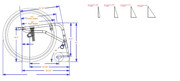 2GX, ZRA and TRA CAD would be very helpful for comparison and best/better results(?)
They would enable me to substitute dimensions and get as close to a real time picture before committing and outlaying the dollars.
Thanks for any assistance.