I started a thread about this a while back, looking for options, but came up empty. So I decided to make one myself. Long story short, this is for a friend who had his truck modified to drive from his chair, but was told there wasn't a bracket available for his TR to fit the EZ lock, so they put a bracket on an old folding hospital chair for him to use. Since that is ridiculous, I decided to take the bracket from the folding chair and modify it to fit his TR.
This is the original bracket on the folding chair:
This is the TR:
I had to cut the square tubing to shorten each of the legs to fit the more narrow lower frame rails of the TR, and then redrill the holes for the all the bolts since they didn't line up anymore:
I then had to cut the tab with the bolt off, extend the vertical piece down about 2.5", and weld it back together. I used a section of 1/4" steel plate to match. Once I got that done, I welded in some gussets on either side to add some strength back since it's longer now:
Painted it all flat black and put it back together: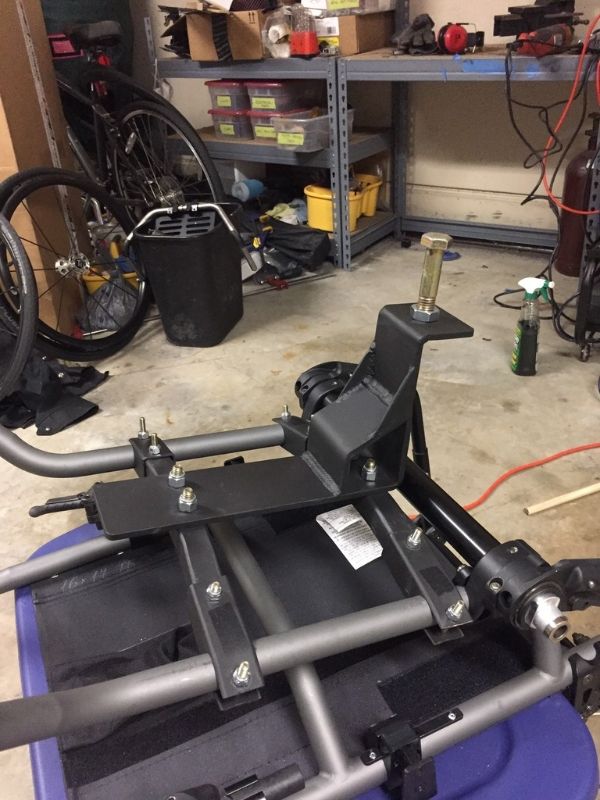 In order for his anti-tippers to clear the EZ lock, I had to pull the camber tube off, flip the brackets that hold it to the frame to the opposite sides in order to move the anti-tippers to the outside of the brackets:
Here is the final product. I made sure the bolt was in the center of his rear wheels. Everything lined up with the EZ lock and works great: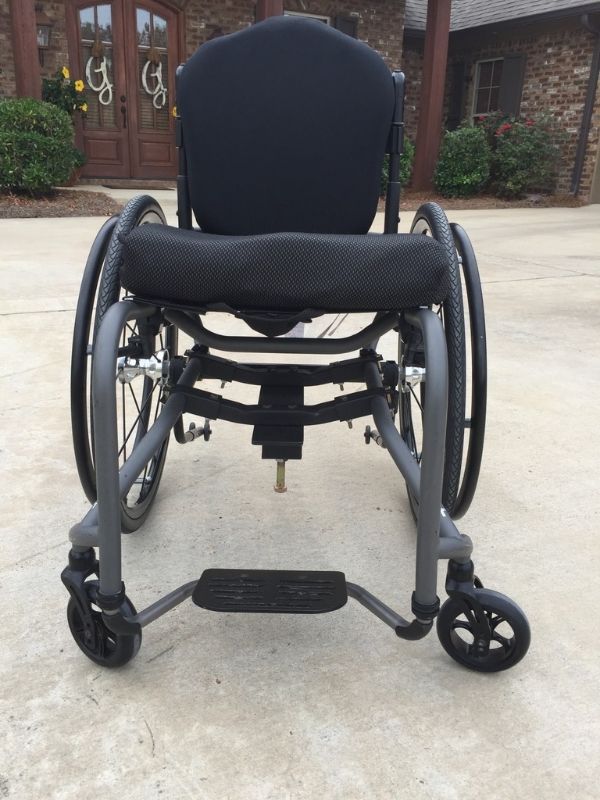 It basically took me a whole weekend. But as you know, doing everything from a chair takes longer. Plus there was a lot of measuring. In the end I think it turned out really well, and it works great for him. He was able to go to work in his TR for the first time in almost 6 months. I think I was able to build it in a way that didn't sacrifice the structural integrity much. I used the same size steel for the extension and the gussets will keep it from flexing. 1/4" steel is almost overkill anyway, the frame on my toyota pickup wasn't even that thick.
I'm sure there isn't a lot of demand for this kind of application, but it would be nice if they at least offered a bracket for this chair on an as needed basis. Although this didn't cost me anything, and actually used less material, they could build this in shop in a fraction of the time. But if anyone else is in this situation, I thought this would help give some ideas and at least let people know it can be done. I already had a background in metal fabrication, but I'm sure a local shop could fab up something like this for anyone.