This is gonna be long, sorry. But I was very fortunate that between my insurance and vocational rehab, I was able to have this chair built to be as light and functional as possible. This is my second chair, I'm coming from a ZRA2 with all the standard options. Also, I'm a T6 complete.
I'll start by saying this was an incredibly frustrating process dealing with Tilite. In all it took 5 months. We would give them the info, and they would send the CAD drawing wrong. I would mark it up and send it back, they would update it and send it back wrong again. This literally happened 3 or 4 times. So I finally got a drawing that was correct, signed it, sent it back and waited. When the chair came in the cross bar under my seat was supposed to be 10" from the backrest and they built it at 15", and my casters were over an inch farther apart than the drawing showed. So I sent it back and they built me another one. The second one had the wrong camber plugs, one of the casters is floating 1/8", and the backrest folds at a slight angle. I'm currently trying to get this resolved on my own, as I'm tired of dealing with Tilite. I will definitely be looking at other options for my next chair.
Specs:
TR3
Titanium ergo frame with v-front taper
Titanium footrest
Titanium folding backrest
Titanium camber tube (couldn't go carbon w/ smart drive)
Titanium axles
Carbon fiber custom ADI solid seat pan
Carbon fiber side guards profiled to wheels
Carbon fiber ADI 10" deep contour back with fixed elite mounts
Carbon fiber backrest release bar
Zero play camber plugs
Surge handrims
D's locks with painted hub rings
25" Spinergy LX x-laced blue wheels with black inner spokes
Outfront glide single sided suspension forks with 4" black billet wheels
Schwalbe marathon tires
Ride design java cushion
On to the pics: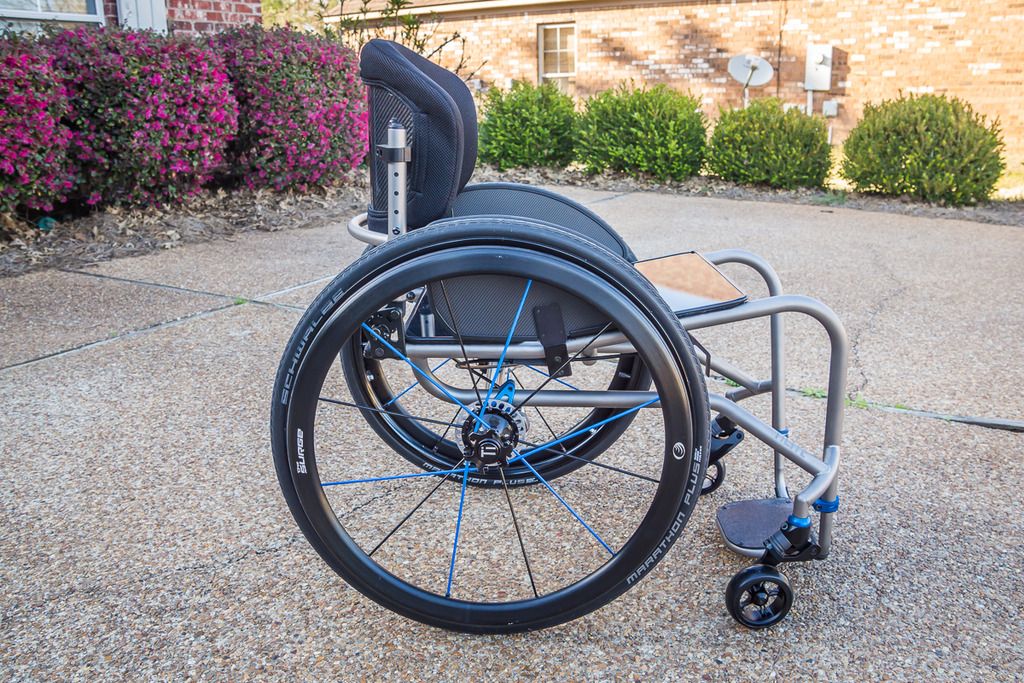 Had ADI make me two carbon seat pans to use for the ergo frame bend (Velcro'd to frame), and had carbon side guards profiled to rear wheels:
ADI back with fixed elite hardware:
Carbon back release bar: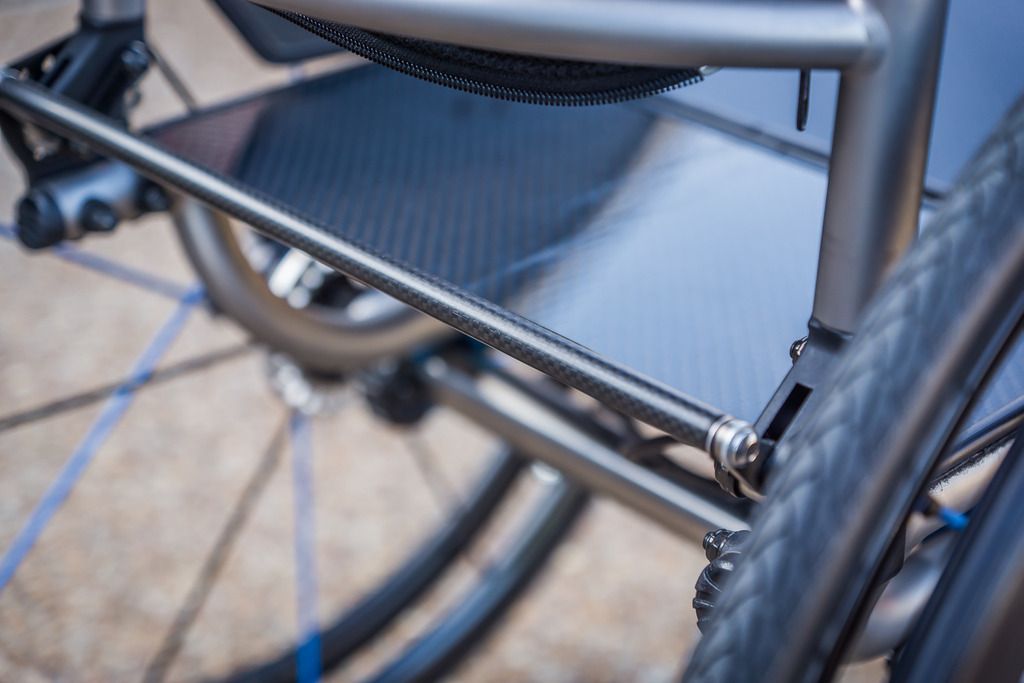 D's locks mounted in front of camber tube: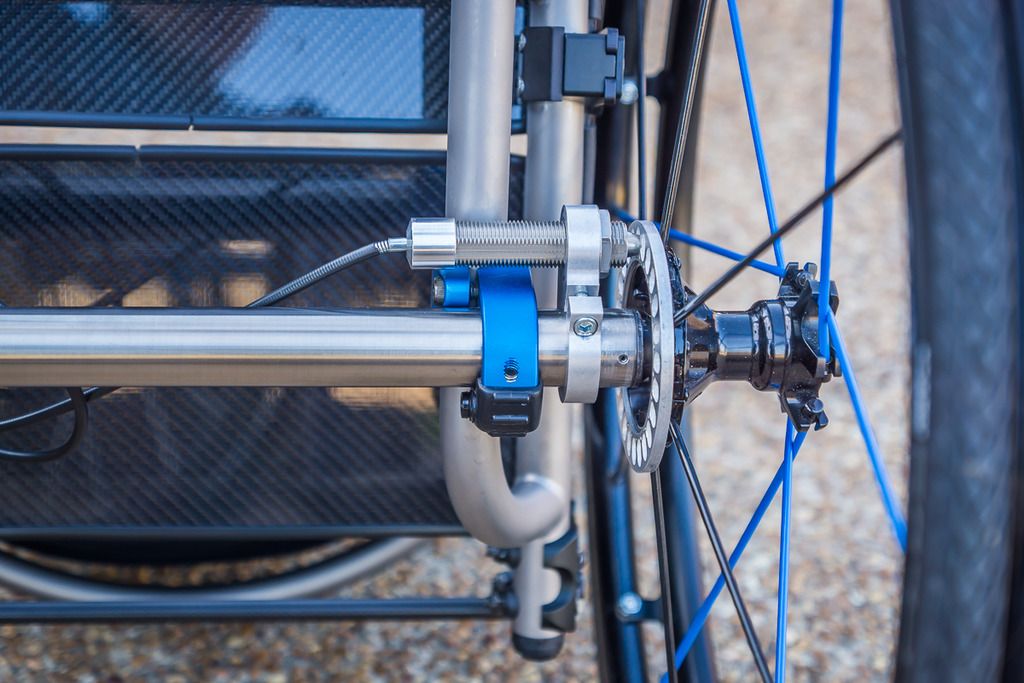 Lever mount:
Hub rings painted gloss black to match hubs, left ring with holes silver because I like the way they look:
Single sided suspension forks and casters: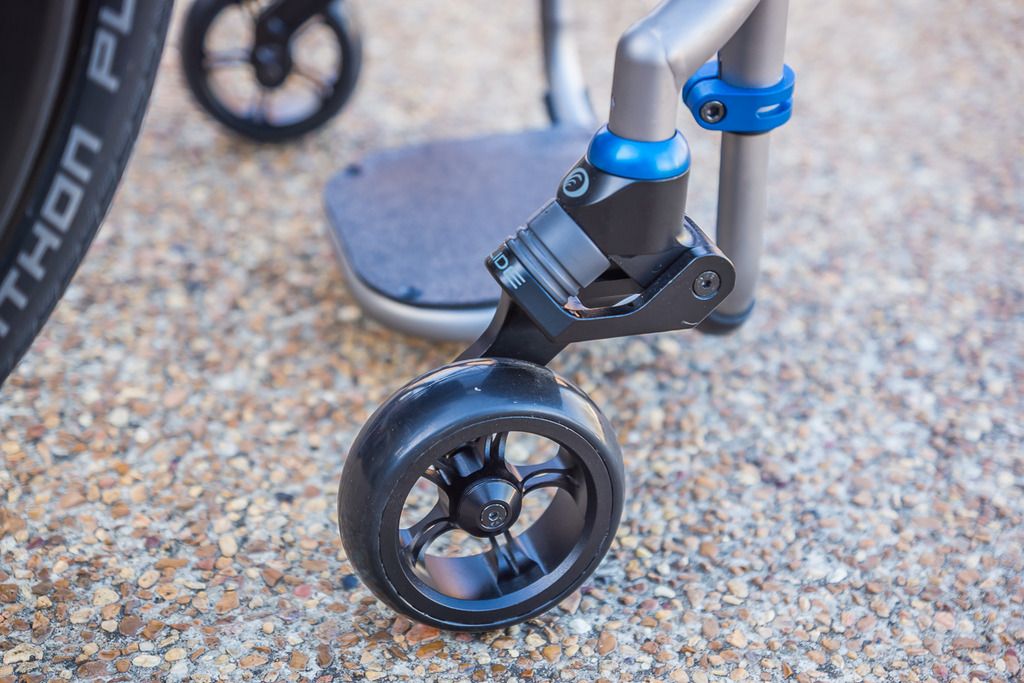 Last shot of chair with new Ride java cushion and 2" sided abs footplate: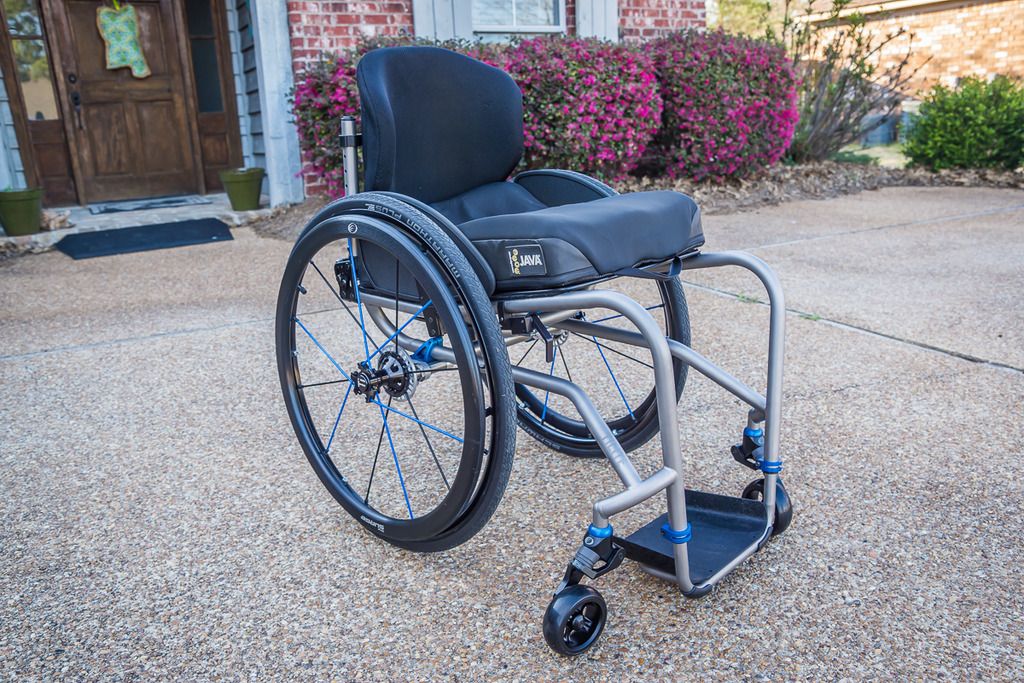 My observations so far:
The TR chair frame is about 3 pounds lighter than my ZRA, but the D's locks added about a pound back. But I can tell a big difference transferring the frame into my car, much easier. I went up from 24" wheels to 25" and I like it better. I feel like I'm getting more out of each push. The x-laced wheels leave tons of room for my fingers when pulling them off. I ordered the wheels with blue spokes and then replaced the inside ones with black spokes to tame them down a little. I really like the D's locks so far, coming from composite scissor locks. The single lever, and locking both wheels at the same time is really convenient. I think the glide forks looks really good being single sided, less hair gets caught in them, and the supsension aspect seems very comparable to the frog legs I had before. I like the ergo frame, but don't feel a huge difference. Having two carbon seat pans has worked really well and I like having the option to pull them off quickly with the velcro. The new Ride java cushion conforms to the ergo bend in the frame really well, where as my old Ride custom cushion would probably be too stiff. I had them do the standard flat abs footplate for when I use my freewheel and need more room, and then had them add an extra 2" sided footplate that I velcro to the flat footplate to keep my feet closer together for everyday use. I went with the TR this time because I like the looks and wanted the ability to adjust my center of gravity as much as I needed. It hasn't been any more difficult to put in the car with the lower bars. It does feel more rigid than my ZRA, especially going off curbs and I like that. Hopefully this has been helpful to some extent. Questions are welcome, thanks.