After 1.5 years the moment I have been dreading is here. We've got a slow leak on one of the Marathon Plus Evolution tires. I had thought I had bought spare tubes and tools, but must have spaced it out. I'm expecting it to be a bear to replace the tube, and want to get whatever I need to for making this as easy as possible and also prevent flats. Quality is more important than price on this.
Note:
I know I can go to a bike shop, of which there is one in almost every town here, but I prefer to do it myself to know that is done properly with the right materials.
I'm sure these points have been covered, but I think they are scattered over various threads. As usual I have some questions that I'm hoping anyone can give input on:
Tubes:
Is this the best tube and the correct size for 25-540 MPEs? Schwalbe AV 9A Fits ETRTO size: 25-540 Fits tire size: 24 x 1.00 tube Schraeder #10419240
http://www.schwalbetires.com/wheelchair/tubes
.
Rim tape:
I'm pretty sure I want to go with Schwalbe High Pressure Rim Tape
http://www.schwalbetires.com/accessories/rim_tape
. Which is the size size for 25-540 MPEs on Spinergy rims, because I can't find any for 25-540. The available sizes are: 24" 22 mm 22-507 or 32 mm 32-507, or 26" 25 mm for 25-559. I'm thinking that the 25 mm for 25-559 would be best to fit the width and not run short. I've also heard that Velox rim tape is good, but I think I want to stay with Schwalbe unless there are good reasons not to. Is it necessary to change the rim tape if it looks to be in good shape after 1.5 years of use and is not dimpling?

Pressure guage:
I've heard that this is one of the best for not leaking air (Spinergy recommended). Any input? Schwalbe Airmax Pro Digital Bicycle Tire Pressure Gauge
http://www.schwalbetires.com/accesso...ols/airmax_pro
I'm going to try this method but I am not all that confident I will manage it: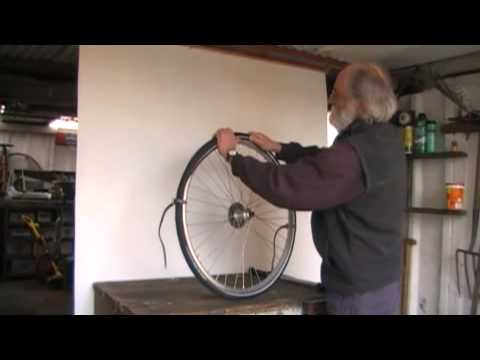 Tire levers:
Assuming I won't manage without tire levers, I'm looking for the best tire levers or jacks that I can find. I've broken a lot of them over the years, especially plastic ones, so this time I want to get the absolute best I can find for at-home use (size/weight not important) that are known to work with MPEs on Spinergy rims. Any input?
Park Tool Heavy Duty Steel Tire Lever Set - TL-5
http://www.amazon.com/Park-Tool-Heav...G9JWE7QKTB5MPC
Park Tool Tl-6 Steel Core Tire Levers
http://www.amazon.com/s/ref=nb_sb_no...e+Tire+Levers+
Schwalbe Bicycle Tire Levers
http://www.amazon.com/Schwalbe-1388-...S0ES5218P14PGF
Pedros Tire Levers
http://www.amazon.com/Pedros-Bicycle...ros+Tire+Lever
Pedro's Downhill Bicycle Tire Lever
http://www.amazon.com/Pedros-Downhil...ros+Tire+Lever
Crank Brothers Speedier Lever
http://www.amazon.com/Crank-Brothers...4NMZXCC2ZW317C
Quik Stik
http://www.amazon.com/Quik-Stik-Chan...ords=Quik+Stik
Kool Stop Tire Bead Jack
http://www.amazon.com/Kool-Stop-Tire...Tire+Bead+Jack
Tire Wheelchair Bead Jack
http://www.sportaid.com/tire-bead-jack.html
VAR Pro Tire Lever
http://www.amazon.com/VAR-RP-43000-V.../dp/B004YJ3122
VAR Tyre Lever
http://www.sjscycles.co.uk/var-tyre-levers-prod27539/
Top Peak Shuttle Lever
http://www.topeak.com/products/Tools/ShuttleLever1_2
Ice Toolz DH Steel Tire Lever
http://www.amazon.com/Ice-Toolz-Stee...olz+tire+lever
Specialized Pry Babies (I can't seem to find a link to these anywhere)