I thought it would be good to have an owners thread for the Firefly about making adjustments. I'll start the first post about it with this:
Adjusting the initial throttle speed
We are trying to adjust the the initial throttle speed on the Firefly. Because my husband can only use one arm to both steer and throttle for speed, we think that it goes a bit too fast when he initially throttles up. He says it is too "abrupt". We think it would be better if we could limit the initial speed so that he does not zoom off too much.
I would like to experiment with changing the settings for this if it is possible, but am not exactly sure which settings to change. I'm hoping that others might have some idea's.
I know that different versions of the Firefly have had different computers. This is the computer on my husband's Firefly, purchased in 2013: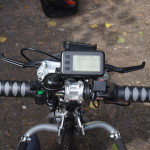 In the
documentation for the computer
it shows that the following can be set:

5 POWER ASSIST LEVEL
Press UP or DOWN to adjust Assist Level to change the motor speed and power output. 1 is the lowest power, 2 is the highest power. On next power up, last level set is retained.

11 WALKING SPEED
Press and hold down arrow (10) to drive the Firefly 6km/hr.
Walking speed icon flashes
When down arrow (10) is released walking speed is off.
NOTE: Newer version will stay in walk speed until down arrow is pressed again.
It also shows that the following normal settings can be set:

CHANGING NORMAL SETTING
Within 5 sec after turning on power, hold down UP and DOWN for 3 sec to enter LCD setting. When entering the setting, the backlight will turn on automatically. When exiting the setting, the backlight will turn off automatically.
Highest speed setting (when the speed of the Firefly is over the value, the motor will not exceed that speed).

Euro spec 25km/hr. by default. US spec 10 mph (15kph) by default.
Press UP or DOWN to adjust the value (factory preset)