Another reconfiguration/swapping out question. I'm trying to remove Integrated Push Handles from an Adjustable Height Backrest on a 2GX. I've already removed the armrest receivers (as instructed on opage 28 of the manual) but still can not manage to get them out.
Question: I'm not sure if this is a case where Loctite was involved, or if I need to also remove the anti-tip receptacles. Any input?
Here are pictures with the armrest receivers off, but the anti-tip receptacles on.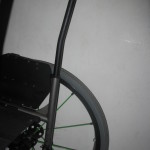 (click to make larger)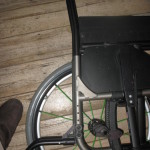 (click to make larger)
BTW, In case you are curious, I'm trying to do this to retrofit ZRA standard Velcro back upholstery that we had extra after purchasing an ADI back for the ZRA. Overall, it looks like it will work, as long as I can get the Integrated Push Handles out. We currently have a Jay Basic Back on the 2GX, and excuse the description, but it sucks (heavy, falls off, etc.).