Some initial photo's
We received the TiLite ZRA a few days ago, but we needed to do some reconfiguration before taking pictures. We swapped out most of the parts we bought separately, but still have a few more to do.
Overall, we are really pleased with DU100082 for the Flip-up Footrests. These were really challenging to spec, especially the rigidizer bar, but the results work well and Rob is able to foot propel and use the footrests comfortably -- yippee!
Finally, we have a few pictures to post (if you click on them you can see the larger image). When we get everything on, I'll take some more pictures and post to the CAD repository.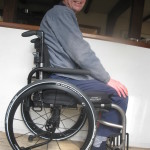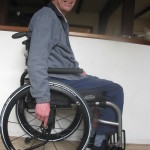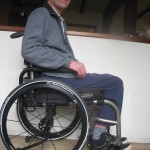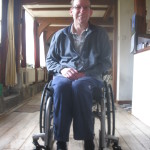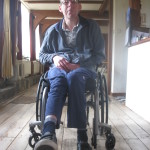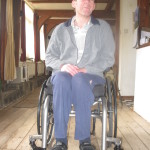 We made a template for the ADI carbon fiber fold-down side guards so we can have them custom fit along with the ADI carbon fiber base. I'm not sure I did this right, especially the Side Guard Stop, because ADI did not provide much information about what is possible. We wanted to make sure the side guards can fold down with the seat back on.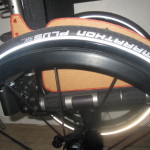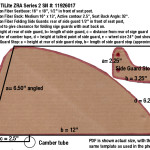 We wanted to jazz up the ADI back a little, because Rob is known for his "statements". I used
GBC Peel'n Stick Laminating Pouches
, which are removable (I tested first). We hope to make more with designs depending on the situation or his mood, but these were our first tests. Stay tuned….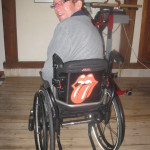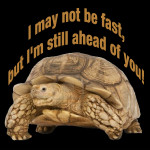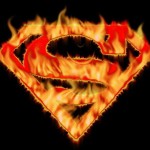 Update: After staying up way too late playing with other ideas (Rob nixed the flaming Superman), I can see where we will have a lot of fun with this. I need to get the measurements and resolution right from the beginning, and definitely a better camera to photograph them, but here is another test. We are going to need to invest in a lot more laminator pockets too -- luckily you can remove and reattach them: