Had a chance to check and demo several chairs at the NY Abilities Expo this past weekend including the Icon. Saw and rode some nice chairs and saw some others that weren't so nice that i didnt care to even sit in. Thought i would share some opinions...........
First the Icon.
Saw Jeff @ Icon, pretty much shot straight over there as soon as i got through the Expo doors. Got through all the pleasantries, etc, etc. with Jeff & his trusted side kick Misha then jumped straight down to the floor and started giving the Icon a thorough examination. Listened to Jeff for a second as he was explaining a 2nd chair (they had 3 chairs including Jeff's) to another customer. Jeff was great, he pretty much cut me loose & let me have my way with the chair while he talked with other interested riders. Sat in it, rode it a bit, didnt like it, got out of it again and went to work adjusting it to fit me. Here is where i have to apologize to Jeff because while i was doing all this I apparently started stealing a little of his thunder as i un-intentionally went into salesmen mode morphing into Jeff Adams himself explaining the chair to others as they stopped by while i was making my own adjustments, sorry Jeff. I didnt realize i was doing this until my buddy told me this later with a laugh. Total adjusting time in between running my big mouth, 7-8 mins. I changed COG, fron t & rear seat height and back rest angle and off i went. And ride I did, I had the chair for over an hour and was surprised Jeff didnt send security out looking for me. This chair is much easier & simpler to adjust than my Marvel. You can make all the adjustments to the chair without taking the wheels off, flipping it over etc etc. It was fast, simple and trouble free. The new straight, hump free prototype front wing is a good fit and much more appealing TO ME and if i understood correctly there will be 2 to choose from. It was a nice smooth ride and a effortless push. I do regret not taking the chair outside and hopping a few curbs to test the suspension, by my current suspension chair experience and the personal "technical dissection" of the Icon told me it will work as its designed too. Solid back was nice and for me would be a must, i rode both the carbon fiber & the laminate seat pan chairs and noticed no difference in weight (more on weight later). What I liked the most was the back rest angle adjustment, it can all be done on the fly while ur riding which is what i did. Not so favorite was the side guards which i thought were a tad to long and held me up a little bit for a from floor to chair transfer . I'm sure with time I would be able to work around it as with all new chairs. As we all know, Jeff & Christian are always quick to respond to a users observations. It's a good chair, its new, its fresh and its in its early stages and i am sure it will continue to evolve into a great chair. Knowing Jeff & Christian's past dedication to building an innovative chair, they did not disappoint with the Icon. I had someone take some photos of me with the chair but as i found out when i returned home, some people still don't know how to operate a digital camera........
The TiLite TR3.......
I liked the new TR3, the one i took for a spin was highly optioned, Tattoo'ed, CF camber tube, adj strap seat sling, anodized treatment, CF side guards and the New TiLite wheels. I'm guessing $6000.00 chair in its current condition. If i remember correctly the wheel option was 900.00? I liked the adjustable COG, for me thats a must in a wheelchair. Not sure how i feel about the Uni-Tine forks, are these prone to hi speed caster flutter? My COG setting never seems to feel the same from one chair to another. Salesman told me this would hit the market in late June, early July. Real nice chair, this would be my pick for a box frame chair. I am really interested to see how SportAid prices out this chair.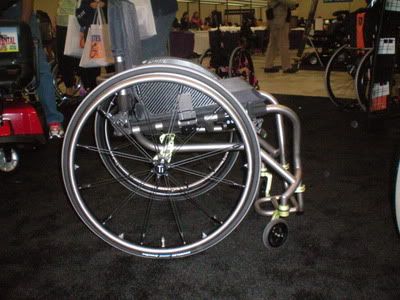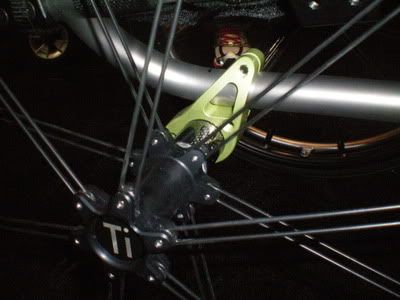 Colours.............
Can you say BLING BLING. Might get excited about Colours if i was 16. BUT, i did see alot of riders in various Colours Chairs at the show, seems to be a popular chair. Rode one, good ride, nothing special or exciting here. I must say they did have a interesting outdoor prototype called Bigfoot. It looks similar to the Top Ends All Terrain but with a dual shock, four link independent rear suspension. Too bad the NitWit Colours staff knew nothing about the chair. Apparently it was just put together in time for the show. I actually had to explain to them what the knobs on the shock were for. Also, valve for the shock was up against the four link and would be very difficult if not impossible in its current configuration to attach a shock pump. To much air in the shocks so i could not really test the suspension. Notice the cheap steel ready for rust hardware in the photos. Took it for a spin, HUGE chair, dont see this one making it in & out of ones back door regularly or around inside the house. Intriguing still for someone who spends alot of time outdoors in a rugged environment.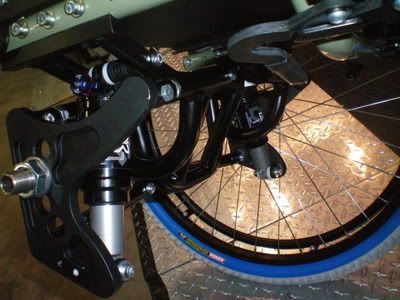 I will get to the Panthera & Quickie Chairs and a few other observations in another post.