concluded I have to give up trying to use the old bicycle pump.
Which powered pumps do people use? like? hate? etc.
Price: $110.00
Can't find this one in the USA, looks really practical though.
Rothenberger Cordless Air Pump For Dry Pressure Test Kits.
Only goes up to 100psi
similar by Bosch, again can't find it in the USA
maybe called
Bosch PAG 12V Cordless Air Pump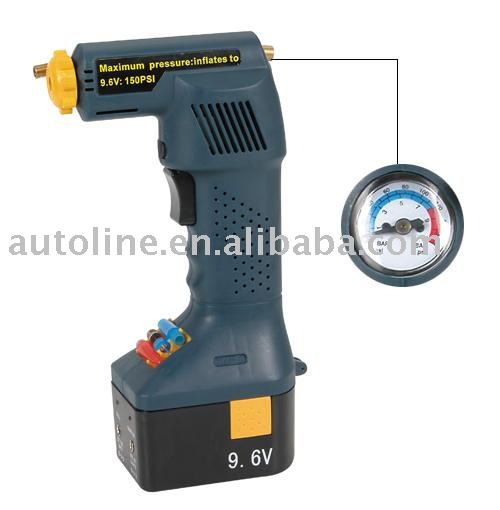 Craftsman... Craftsman C3 19.2 volt Cordless Inflator $40
Review of the craftsman pump.
http://hardwareaisle.thisoldhouse.com/2011/05/craftsman-c3-cordless-
inflator.html
PowerSmith MLAI12C Mag lithium 12-Volt Lithium Ion Portable Air Inflator
PowerSmith MLAI12C Mag lithium 12-Volt Lithium Ion Portable Air Inflator

It seemed like a good buy,only $29 for a rechargeable Lithium-ion powered tire compressor. I read the AMAZON ad several times before commiting to buy. When I received the compressor I was surprised to find no battery or charger. I checked on line and found the battery and charger was available as a separate purchase (not so stated in the original ad). The bottom line is it would cost me an additional $49 to make the compressor functional.I was suckered in by the original ad which did not state that the compressor would not function w/o an additional purchase.
PowerSmith MLAI12C Mag lithium 12-Volt Lithium Ion Portable Air Inflator Overview
http://aircompressor-reviews.blogspot.com/