The bracelets to support SCINetUSA's clinical trials are finally ready to go. Here are some pics. Unfortunately the Just A Dollar Please website name debossed on the inside of the bracelets didn't come out as prominently as planned, but each bracelet will also come with a double-sided postcard with a bit of information about the trials and JADP.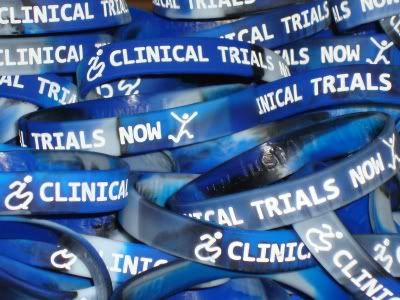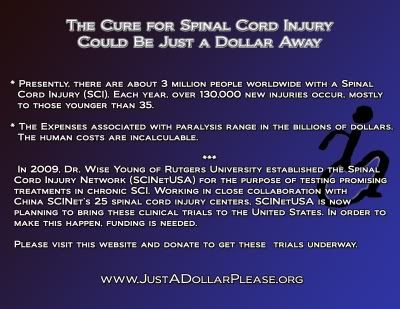 There are 2 ways to order. If you'd like to get just a few, you can order them for $5 each through this website, generously put together by Trainman (thank you Trainman!).
http://www.scibracelets.com/
If you would like to help out with fundraising by ordering a larger quantity of bracelets to sell in your own community or at specific events, please PM me or send an email to
scibracelets@gmail.com
with your location and the number of bracelets/ postcards you require. They will be provided at cost and you can then remit the proceeds of all sales (the suggested sale price being $5 each) to Just A Dollar Please as a direct donation.
ETA: THIS OPTION WILL ALSO NET YOU A HANDY TAX RECEIPT!
I will be keeping complete records of all funds raised and donated, and I would be happy to provide this info anytime. I am not directly affiliated with JADP, just a regular forum member trying to help out, but I do have their permission for this project, and when the JADP website is updated it will include a link to the bracelet ordering site.
Thanks for your support. Let's get those clinical trials going!